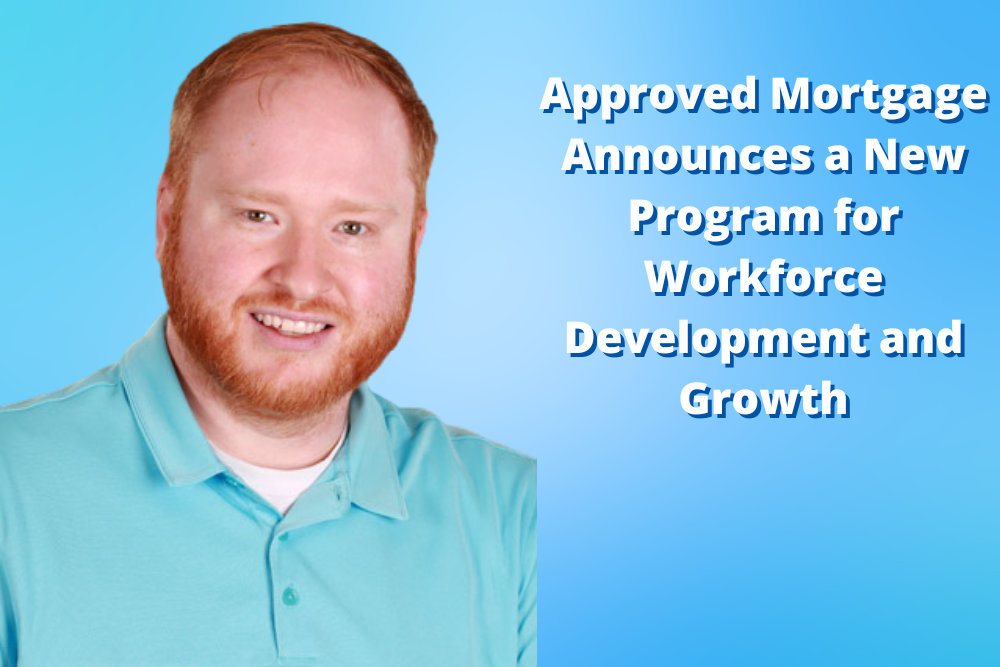 Approved Mortgage Announces a New Program for Workforce Development and Growth
Jul 31, 2023
Approved Mortgage, a leading mortgage banker in the Indianapolis area, is pleased to announce the promotion of Joel Asbury to the position of Mortgage Coach. In his new role, Joel will continue demonstrating his exceptional leadership skills and industry expertise, further enhancing Approved Mortgage's commitment to providing outstanding service to its clients.
Joel Asbury has been integral to Approved Mortgage (formerly Winterwood Mortgage) since November 2010. He has consistently demonstrated his dedication, drive, and deep understanding of the mortgage industry throughout his tenure. Joel's journey within the company has been nothing short of remarkable. Starting as the "JR Data Manager" in a lighthearted remark by Jim Landwerlen, President of Approved Mortgage, he quickly rose through the ranks. He ultimately assumed the vital role of Operations Manager.
As the Operations Manager, Joel oversees critical processing, underwriting, closing, and funding functions of Approved Mortgage. Simultaneously, he collaborates with his real estate business partners to originate and finalize his personal loan production. Joel's extensive experience and industry knowledge enable him to guide his clients toward successful loan closings and provide invaluable support to the Operations Department.
"Joel Asbury has consistently demonstrated his exceptional leadership skills and unwavering commitment to excellence," said Jim Landwerlen, President at Approved Mortgage. "His promotion to Mortgage Coach is a testament to his hard work, dedication, and outstanding contributions to the company. We are confident that Joel will excel in his new role, and we look forward to witnessing his continued success."
In his previous role as the SVP, Operations Manager, and Sr. Mortgage Advisor, Joel played a pivotal role in managing the production of a multi-million dollar locally owned mortgage banker. Additionally, he achieved impressive personal sales growth over the last decade. His well-rounded skill set includes expertise in business management, written communication, loan processing, key metrics analysis, teamwork, strategic planning, negotiation, customer-focused service, regulatory guidelines, team management, mortgage compliance, team leadership, analytical skills, complaint management, data analysis, customer experience, communication, and account management.
Joel Asbury is an alumnus of Indiana University Bloomington, where he earned a Bachelor's degree in Telecommunications. His passion for media marketing and broadcast production management has contributed to his well-rounded skill set and ability to connect effectively with clients and colleagues.
"Being promoted to Mortgage Coach is an incredible honor," said Joel Asbury. "I am grateful for the trust and confidence placed in me by Approved Mortgage. I look forward to continuing my commitment to excellence and guiding clients through the complex mortgage process. With the support of our exceptional team, I am confident that we will continue to provide the highest level of service and achieve even greater success."
As Joel assumes his new role as Mortgage Coach at Approved Mortgage, he brings a wealth of experience, a passion for delivering exceptional results, and an unwavering dedication to customer satisfaction. His appointment reinforces Approved Mortgage's position as a leader in the mortgage industry, committed to providing personalized solutions and unparalleled service to clients.
About Approved Mortgage
Approved Mortgage is the largest and oldest locally owned mortgage banker in Central Indiana, with over 6.5 billion funded for Indiana families. As an industry leader for over 20 years, Zillow® recognizes Approved Mortgage as a 5-star lender, rated a Top 20 Broker by Expertise®, and ranked by Entrepreneur.com® as one of the top 25 Best Small-Company Cultures. Approved Mortgage is a direct lender that allows for same-day approvals. We provide a vast array of residential mortgage loans that have served thousands of families, making their dream of home ownership a reality. Our residential product line includes conventional, jumbo, FHA, VA, reverse mortgages, and portfolio loans for purchase, refinance, and construction transactions. We also offer a variety of commercial real estate loans for multifamily, office, retail, warehouse/flex space, as well as other loan products.
We look forward to assisting you with your mortgage loan needs by delivering just the right product and the service you deserve. Approved Mortgage has served thousands of satisfied clients and is an A+ accredited member of the Better Business Bureau.